Toilet Cubicles, Shower and Washroom Systems and Vanity Units
ASFAB are specialist washroom manufacturers & installers. We offer bespoke Laminate Fabrication, Postforming and Solid surfacing. All our products are individually tailored to suit our clients needs.
Our Factory
The Madeley facility has 7,000 sq. ft. of manufacturing capacity and is fully equipped with state-of-the-art machinery. We know our shower and toilet cubicles, washroom systems and other products work because we use the best materials and provide a complete service that includes site visits, technical advice and after sales care.
Competitive
Sure, we are in business to make a profit but we also want you to make one too. We have smaller overheads than many of our competitors and the prices of our toilet cubicles and washroom systems reflect this. We are confident that you will find our rates favourable.
Product excellence
All of our shower and toilet cubicles, washroom systems and laminate products are handmade to our clients' specifications. We have extensive experience in material suitability and always strive to provide a solution and product that exceeds the environmental demands.
Friendly service
We don´t bite! What's more we enjoy building relationships with our customers and go that extra mile to give them our best possible service. We will be pleased to visit your business or site to discuss your requirements, provide samples or assist in site surveys to make sure that your shower and toilet cubicles or washroom systems meet your needs perfectly.
Unlimited choice
No one likes being told 'you can 't have that ' or 'sorry, not in that size or colour'. Put simply, at ASFAB, we believe in maximum possible choice. In other words, if anyone can do it, we can.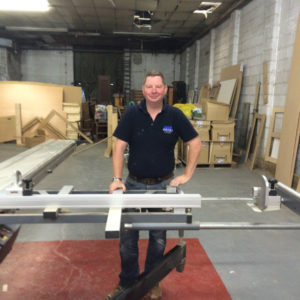 Andrew Steele, Managing Director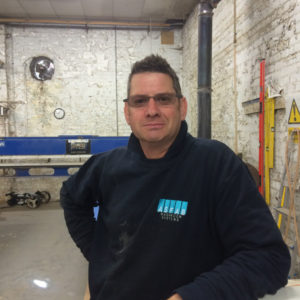 Richard Steele, Director
Our History
Asfab (or Andrew Steele Fabrications) was born in 1998. We started as a general laminate fabricator & post former. Supplying Joinery & Construction industries with purpose made laminate components such as Worktops, Shelving, Cubicle components and Flat bonded laminate boards. We started in a 1,500 sq ft unit in Stoke on Trent and quickly out grew the unit, so moved to our current home, a 7,000 sq ft in the pretty village of Madeley, roughly where Cheshire, Shropshire and Staffordshire meet.
In 2010 we became an approved Corianders Solid Surface Fabricator and have completed various domestic and commercial project Nationwide. Around this time we also started offering an installation service for our washroom components.
Whilst we still undertake bespoke items, our main focus is on Washroom Design, manufacture & installation. We offer full project management from planning to commission, from floor to ceiling and everything in between. In 2019 we added 'Washroom Systems' to our name to let people know what we do!
Meet the Team
Andrew Steele, Managing Director
Following Business Studies at Newcastle College I started in the laminate distribution industry at 18. Laminate fabrication followed with an emphasis on Sales, Estimating & Production Planning. In 1991 I joined Armitage Shanks Washrooms, and spent 4 years in Estimating/Sales. I returned to laminate fabrication with CIP (Now IDS) before starting Asfab aged 28, in 1998.
My role is Sales, Accounts & some production.
I have 2 daughters, & 1 Labrador.
I like most sports, loved playing Cricket for Balaston CC and enjoy good travel, food, beer & company.
Best Job – Shell Island Campsite, Wales 2016, £228k, great job & lovely people.
Richard Steele, Director
Richard starting his working life at the tender age of 16, straight out of Eccleshall High School he went to work for the pottery firm Wedgwood. Employed in the Display & Exhibition Dept. he worked his way up to Project Manager. Before the department was dissolved in the early 90s Richard travelled extensively throughout the UK and Europe (even as far as the Caribbean!) setting up exhibitions and shoplifting retail outlets. He continued this work and other projects for SES Ltd in Stone, Staffordshire up to 1999. He then joined Asfab Limited and has used his background to develop the production & installation side of our business.
Richard has 2 daughters & 2 sons.
Likes – Sports, walking his 2 German Wired Haired Pointers
Also played Cricket for Barlaston CC & plays Golf at Market Drayton.
Memorable Job – Karaoke in Weymouth when working at Portland Prison